About Us
iLoveUSAM (Unified Services And Management) is a progressive multi-purpose apps with Customer Loyalty Shuffle Rewards Program that offer products and services worldwide such as OnlineKUYA Web Scanner protecting you from any form of online attacks damaging your Personal Reputation or Business Brand such as negative comments/post, FREE MLM/Direct Selling Software of any Plan Types, AppBuilder, Website Builder, Rental Services, Parking Services and many more.
In the Philippines, iLoveUSAM main goal is to offer 100+ multi-services giving convenience to Users via a single booking application and livelihood opportunities to both Product and Service Providers.
For Ride Services, we have Bike/Moto Ride and Car/Taxi Ride. We have Courier Service and any type of Transportation Deliveries such as Food Delivery, Grocery Delivery, Wine/Liquor Delivery, Flower Delivery, Water Delivery, Medicine Delivery and Dried Fruits (Dried Mango) Delivery. For On-Demand Professional Services, we have Plumber, Electrician, Tutor, Massage and many more.
Store/Restaurants, Drivers and Service Providers get online job order/request giving them more earning potential. Eload, Bills Payment, Airline Ticket Booking and Remittances are upcoming Philippine Products.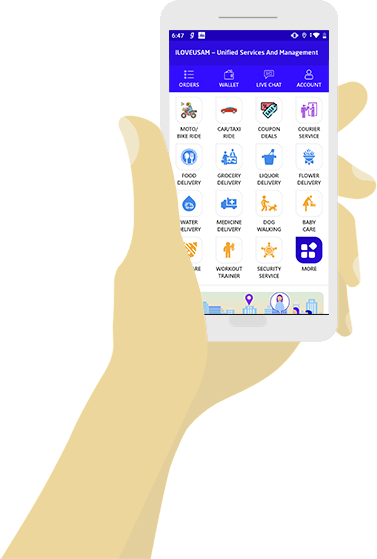 Call To Action
Whether you have any questions or any queries regarding our services, not a big deal, Let's talk.
iloveUSAM
Your convenience is our business